Een heel leuk circuit, wat een beetje ver weg ligt. De vrije training was nat wat ik geen leuke manier vindt om een baan te leren kennen. Afgezien van twee spinnetjes op de baan, waarvan een bij 150kph en 900°, die zeer door het publiek werd gewaardeerd, een weinig verheffende training. De eerste training was droog aan het het begin, maar mijn kop stond er nog niet naar. Dit leverde een teleurstellende 11de plek in 1:49.7 op 7.5 sec van de voorlopige pole. De tweede training ging beter en ik kon mijn tijd aanzienlijk verbeteren tot 1:45.7 wat toch niet meer dan een 10de plek opleverde van 15 1600.
A very nice circuit, that is a little far away. The first free practice was wet, which is not the way I prefer to learn a new circuit. Apart from two spins on the track, of which one at 150kph and 900° got me a lot of public acclaim, an uneventful practice. De first practice was dry but in my head it was still wet. This resulted in a disappointing 11th in 1.49.7 at 7.5 s from the provisional pole. The second session was much better and I could better my time considerably to 1:45.7 which only resulted in a 10th place from 15 1600.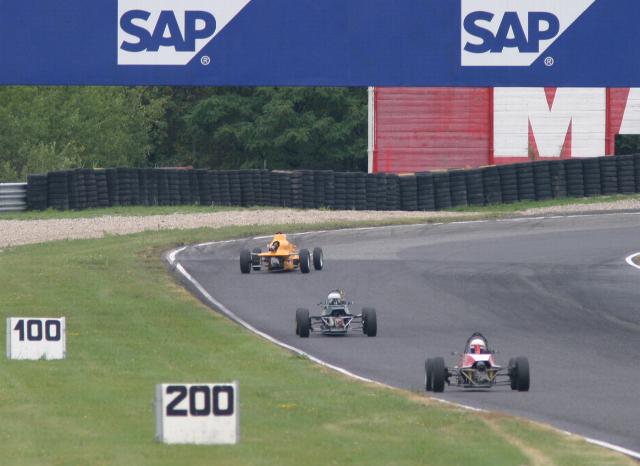 Heading for the double right-hander at the beginning of the straight
Minor improvement: lower position in the car
De race startte waarbij Ole niet van start kwam. Hierdoor kon ik mijn goede start niet bekronen door voorbij Chris Maries en Matthew Dean te komen. Alleen Joao Marques kon ik passeren, maar hij kon verder in de ronde mij weer passeren. Ik lag 10de en liep in op Didier Deleger, Matthew, Chris en Joao die vochten om de 6de plek (en na het uitvallen van Alan Crocker 5de). Ik werd geblokt door Steen Seit Jespersen die vocht met zijn FF2000. Na enige ronden viel Didier uit de groep en kon ik hem passeren. Toen ik op het rechte eind de 3de versnelling miste kon hij weer voorbij komen dus moest ik weer van voren beginnen. Ik kon hem weer passeren, maar de groep voor me was te ver weg. Didier kwam nog dichtbij nadat ik een bocht miste doordat ik de verre van ideale rembalans probeerde te corrigeren. Ik kon weer een gaatje trekken na dat ik van lap van Jaap Bartels (FF2000) gebruik kon maken. Zo finishte ik als 8ste.
The race started with the car of Ole which wouldn't get away. This prevented that I could get a clean start, which would have gotten me past Chris Maries and Matthew Dean. I got past Joao Marques, but he got past me during the remainder of the lap. I was lying 10th and I was catching Didier Deleger, Matthew, Chris and Joao who were fighting for 6th and later 5th when Alan Crockers engine failed. I was getting closer but got blocked by the FF2000 of Steen Seit Jespersen who was struggling with his car. Eventually Didier fell off the group and I was able to attack him. I got past him, but in the same lap missed the third gear on the straight and he was able to re-take his place before the chicane. After that I passed him again and was able to pull away. The group before me was gone. Didier came close once more time after I missed a corner after fiddling with the brake balance, which was far from optimal. I could use the lapping Jaap Bartels (FF2000) to keep him at bay. So I finished at the 8th place.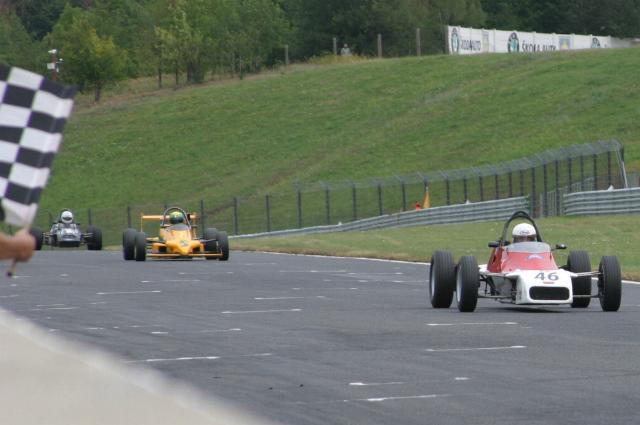 The checkered flag in 8th position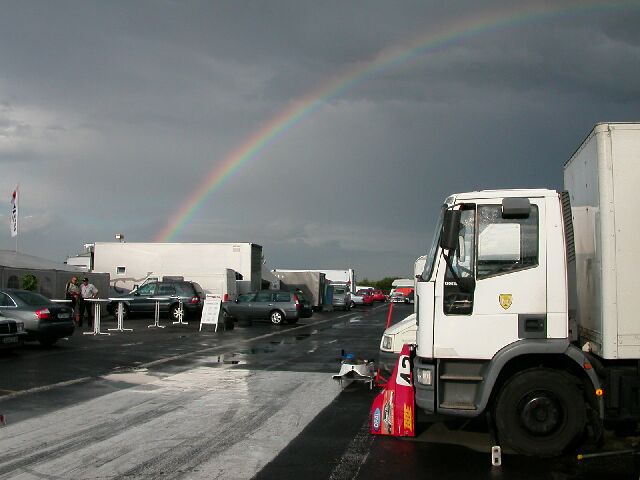 Different weather conditions during the weekend