Raceresultaat niet gefinishd. Snelheid was er wel 3e ronde 5e tijd van het veld. Helaas vond ik Chris Maries op mijn weg of was het andersom. Mijn voorwiel kwam tussen zijn voor en achterwiel terrecht in de Spitzkehre. Toen zijn achterwiel over mijn voorwiel ging werd hij op zijn rolbeugel gegooid en werd mijn stuurarm van mijn upright verbogen. Een teleurstellend einde van een race die goed begon.
Race result DNF. The speed was there with a 5th time in the 3rd lap. Unfortunately I found Chris Maries on my path or was it the other way round. My front wheel got in between his front and rear wheel and when rear tried to free it self, Chris was thrown on his roll bar and my steering arm bend. A disappointing result end to a race that started so well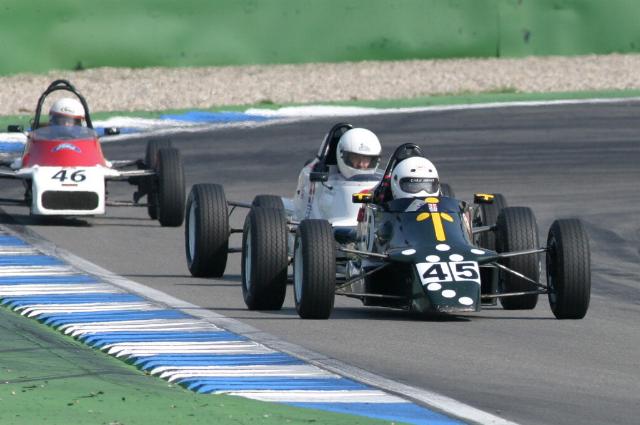 Lap 4 - 10th seriously closing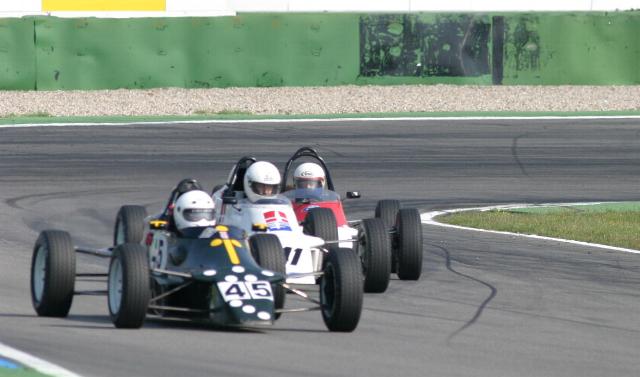 Lap 5 - 10th after 8th before this corner
Nawoord: Nadat ik had geconstateerd dat Chris in orde was en ik de race niet kon vervolgen, heb ik mijn auto op een veilige plek gezet. Ik werd toen door de rescuewagen weggesleept tot achter de vangrail. Deze mannen hadden echter hun tijd beter kunnen besteden aan het helpen van Chris, wiens wagen niet omgekeerd kon worden door de resterende marshals. Nu moest Hugo Wilmars zijn race beeindigen om te helpen om Chris uit zijn benarde situatie te verlossen. Hiervoor hulde, maar geen goede beurt van de rescuewagen marshals.
After thought: After I had concluded that Chris was alright and I could continu my race, I parked my car in a safe spot. I was immediately towed away by the rescue car to a place behind the armco. These men in the rescue car could have used their time better to help Chris, who's car couldn't be toppled by the remaining marshals. Now Hugo Wilmars had to stop his race to release Chris from his uncomfortable position. Good job from Hugo, but bad judgement from the rescue car marshals