Zolder 05-06 July 2008
On Friday to Zolder, when there is no practicing is a comfortable exercise. The trip takes about two and a half hours so there is no need for stress. Just loading things up, do a bit of shopping and off you go to arrive with time to spare. No German police to hold you up. Only traffic, which can be quite difficult to get through as I experienced on my way to Assen last race. There are however other things that can elogate you journey. While I was happily driving on the Antwerp-Hasselt Motorway listening to the Belgian radio's report of the Werchter Popfestival, my camper became unbalanced. A tyre had blow and with a little difficulty I could keep it straight. I got everything on the hard shoulder and stopped. The hard shoulder was narrow and Armco prevented you from moving further away from traffic. Trucks were passing me at less than a meter. Only when there were no vehicles due for a couple of hundred meters I could open my door and have a peek at what was the matter. It turned out my left rear tyre had blow. I evaluated the situation: no way I could put my spare wheel on here, wait for the AA would take a long time, try to find a place to change tyre seemed the best option. I actually had hoped for a gap in the Armco, but a parking place might do or an exit. It turned out to be the latter, which had a very convenient slip road, only it took me half an hour to reach it at 20 kph. Changing the tyre wasn't a F1 job, it took me a little longer but finally I got back on the way and in a other half hour I reached the track.
Qualifying
As there was no free practice we had to start with qualifying with the data one had of the last year. I had prepared my ratios at home from the race the year before. I found these to work well, but I had an idea that there was room for improvement but I couldn't quite figure it out. Anyway the first session was run under fine weather and I guessed it would be the quicker of the two qualifying sessions as the temperature would rise in the afternoon. I got in one 1:48 and a couple of 1:49s. Not earth moving stuff but reasonable enough as last year's best time was 1:45.9. It turned out to be fourth place with 1:48.2 which was better than last year when I couldn't get below 1:49.
I hadn't found a better gearbox ratios so two and half hour later I had to work with the same material as the morning session. It was quite warm and even in the first session the rear tyres became slippery in the last laps. My first flying lap was a 1:48 so I thought 1:47 here I come, but it turned out otherwise. I was more consistent that the morning session but not out and out faster. My best time was a 1:48.6 so my morning time stood and I was knocked back to 6th. I had found that I could go through Bianchi in fourth which would save me a little time. I hoped this would make a difference during the race.
Another thing I had been working on during the qualifying sessions was my in-car camera. A so-called action cam now recorded my driving like a camera on an F1. Unfortunately the camera stopped for inexplicable reasons after 12½ minutes. In the first session that resulted in the recording of one and a half lap due to the fact that I turned on the camera at the pre-grid and we were left stationary in the pit lane for almost ten minutes before we were allowed to start our qualifying.
Class
1st Qualification
2nd Qualification
1
Matthew Dean
Reynard SF88
B
1:47,185
1:45,857
2
Tony Walsh
Reynard FF 88
B
1:48,035
1:46,749
3
Jaap Blijleven
Reynard FF 88
B
1:47,268
1:46,932
4
Rebecca Dean
Reynard FF 88
B
1:49,062
1:47,202
5
Alan Crocker
Ray FF71
C
1:49,521
1:47,873
6
Ed Waalewijn
van Diemen RF82
B
1:48,269
1:48,512
7
Chris Whittingham
Reynard FF88
B
1:49,356
1:48,654
8
Paul Riemens
van Diemen RF76
C
1:50,111
1:48,726
9
Paul McMorran
Crossle 25F
C
1:48,783
1:49,707
10
Christian Schröter
van Diemen RF82
B
1:49,665
1:49,372
11
Nils Leuber
Vaney 71/2
C
1:51,361
1:50,181
12
Johannes Kistler
van Diemen RF78
C
1:52,191
1:51,691
13
Alan Williamson
van Diemen RF81
B
1:53,853
1:52,225
14
Paul Hubbard
Merlyn

 

Mk 20
C
1:53,759
1:54,198
15
Povl Barfod
Titan Mk6
C
1:54,526
1:53,934
16
Günther Böhm
Swift SC88
B
1:58,363
1:54,391
17
Stephen Collyer
Dulon MP15 (Merlon)
C
—
—
<![if supportMisalignedColumns]> <![endif]>
Race Results
The settings for the race were a fine Sunday morning. I had my sights set on Rebecca Dean who was fourth on the grid. I guessed that without a little help from the trouble devil visiting Matthew, Jaap and Tony were out of reach. The other objective was to keep Chris behind me. The start was good enough, not that I made up any places but no place was lost and nobody was breathing down my neck in the first few corners. I got a good run out of Bianchi and could get my nose in front of Alan's car.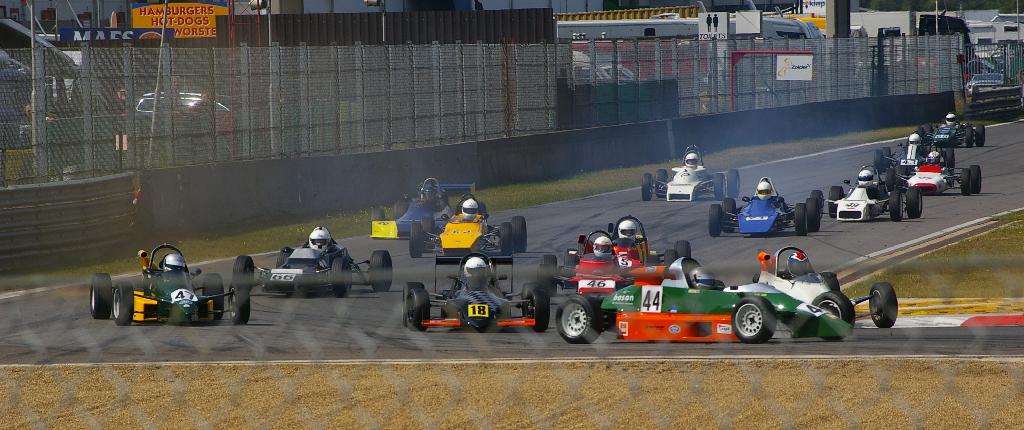 Congestion in the paddock chicane
In the paddock chicane Hell had broken lose as two two-litres had come together. I managed to find a good path through the mêlée. In the process I also got by the two-litre of Benoit Lemage. In the run up to the Villeneuve chicane I was watching my mirrors and taking a defensive line. This turned out to be a good move. Chris was making a mad dash on the very inside and passed both me and Rebecca, to land on the rear wheel of Jaap who he pushed round. The inside line made it possible to circumvent most of the carnage. In the process I passed the two-litre of Hans Knol.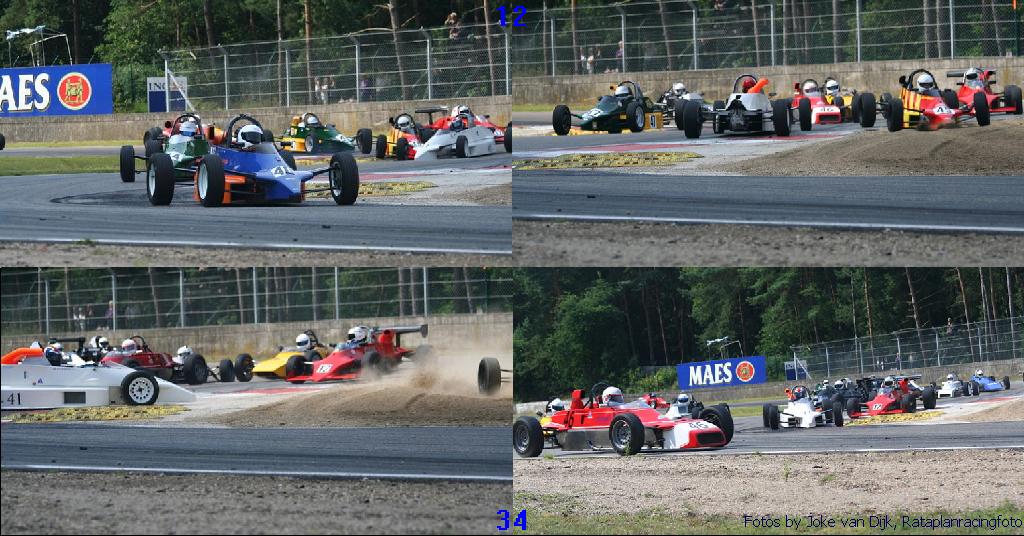 Mad dive Whittingham causes chaos
I was now fourth and I was near enough Rebecca on third to try and stick with her. The next lap went okay without any drama in sight. When we came through the first corner I saw that the drama had occurred behind me. Hans Knol's two-litre had come together with as I later found out Paul Hubbard's car. This incident caused a safety car period. So we drove behind the safety car for two laps.


One lap after re-start
The re-start was a copy of the start: I did not gain anything but did not lose anything either. I pressed on to stay with Rebecca and that was hard enough as she had good speed. After a few laps I lost a little but I had a greater problem behind me. Jaap was catching me quickly. I was sure he was eliminated but luckily for him he was still in the fray. Not so lucky for me as he passed me like I was the amateur I am.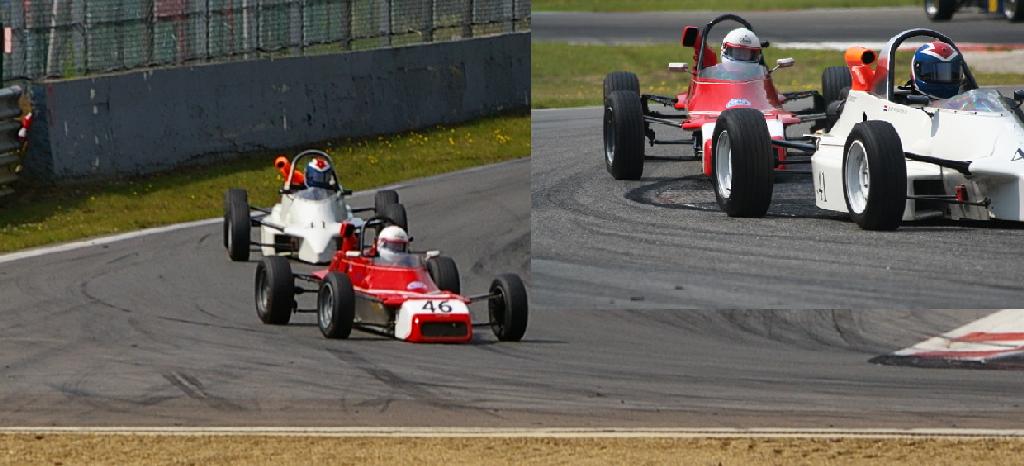 Two chicanes one position lost
Press on keep him in sight. One lap I was able to pretend I could stay with him but then the bubble burst. He passed Rebecca and then she made a mistake and spun in the paddock chicane. Again I was fourth and thought I had it made. I began to make a few shifting mistakes and had to concentrate hard to keep up the speed. In the background with three laps to go where Christian and Rebecca. When they came real close, I could see in my rear view mirror, Christian made a mistake and that made the path clear for Rebecca. She was on my tail on the last lap and I had to make some defensive move to keep her behind. I got a little gap again at the back of the circuit but coming up to the final Ickx chicane she was all over me. I pulled over to the left to defend the corner but unfortunately I did not do so enough. I left just enough space for one car with nothing to spare. Rebecca dove into the gap and outbraked me and held the corner so there was nothing I could do, but be content with fifth…damn…
Class
Laps
Time
Fastest lap
Difference
1
Tony Walsh
Reynard FF 88
B
13
25:51,815
1:47,169
2
Matthew Dean
Reynard FF 88
B
13
25:52,415
1:47,186
-0,600
3
Jaap Blijleven
Reynard FF 88
B
13
25:54,527
1:46,417
-2,712
4
Rebecca Dean
Reynard FF 88
B
13
26:06,995
1:47,342
-15,180
5
Ed Waalewijn
van Diemen RF 82
B
13
26:07,477
1:48,382
-15,662
6
Christian Schröter
van Diemen RF82
B
13
26:07,844
1:47,773
-16,029
7
Alan Crocker
Ray FF71
C
13
26:16,390
1:48,867
-24,575
8
Paul McMorran
Crossle 25F
C
13
26:17,417
1:49,332
-25,602
9
Paul Riemens
van Diemen RF76
C
13
26:22,811
1:49,690
-30,996
10
Nils Leuber
Vaney 71/2
C
12
24:42,317
1:50,019
1L
11
Alan Williamson
van Diemen RF81
B
12
24:43,455
1:50,313
1L
12
Johannes Kistler
van Diemen RF78
C
12
25:12,631
1:52,599
1L
13
Stephen Collyer
Dulon MP15 (Merlon)
C
12
25:16,438
1:53,431
1L
14
Povl Barfod
Titan Mk6
C
12
25:32,176
1:56,394
1L
15
Günther Böhm
Swift SC88
B
4
1:58,455
9L
16
Paul Hubbard
Merlyn

 

Mk 20
C
1
2:13,491
12L
17
Chris Whittingham
Reynard FF88
B
-
Winner FF2000
Frank Novak
Reynard SF88
A
13
24:37,288
1:40,207
<![if supportMisalignedColumns]> <![endif]>