Assen 17-18 May 2008
For the general competitor it would seem that Assen is my home track in this season of the CFFC. Although in the Netherlands, it is not the nearest track in this season. It is actually some 30 km further than Zolder in Belgium. I found that it was actually very far away. With no practice time on Friday I wanted to drive leisurely to Assen. To beat the Friday rush hour I left home at two thirty in the afternoon. This was however to no avail. For some inexplicable reason there were a lots of people trying to use the same bit of road I wanted use for my camper and trailer. I thought if I can past Utrecht before four I would be fine and normally Utrecht is forty minutes but this time I found that I had covered 60 km at a average of 40 kph. After Utrecht it got no better and finally I arrived in Assen after four and a half hour which sucks for 230 km.
In Assen my friend Gilbert Cristini and his wife Josianne already had settled down. I shouldn't complain about four and a half hour as he had driven 1500 km to discover another track . I had visited his house the previous weekend, to see the Historic Monaco Grand Prix on his invitation. Then I had the luxury of flying there and not having to tow a racing car.
I had driven Assen before in 2003 on my third race with the CFFC. I only drove 10 laps as my engine broke down. Since then the track was changed as well so I had no proper ratios. Onno had the idea that the gears for Hockenheim would be similar, which was convenient as that meant I had to do nothing.
The weekend was the first in several week where the weather was not tropical. When I was in Monaco Holland was basking in 27°C sunny weather. Now the weather had changed and the first rain for weeks was coming our way. The first test we could do was a free practice in the morning. The track was soaked and it was raining. Not the ideal circumstances to familiarize yourself with the track or sort out your ratios. The track felt grippy and it gave me confidence in the wet. Something I had lost while driving the last race in Hockenheim.
Qualifying
In the early afternoon our first qualifying was however dry. Now was the time to sort everything out and set a proper lap time. I nibbled tenths of seconds of my time every lap. I quite liked the track. More than I remembered. Especially the Ramshoek corner is a daunting proposition. I managed to take it flat one time although I had to correct heavily on the exit. The result of my effort was a 1:58.8 which put me on the sixth place of the 1600 grid.
The second qualification was wet again. I just went out to enjoy myself, which I did. It was not very wet and you had enough grip to keep confidence and slide the car about. I thoroughly enjoyed myself following Frank Nowak in his 2-liter in slicks. We were roughly doing the same lap times. I finally did a 2:26 which was fifth for what it was worth.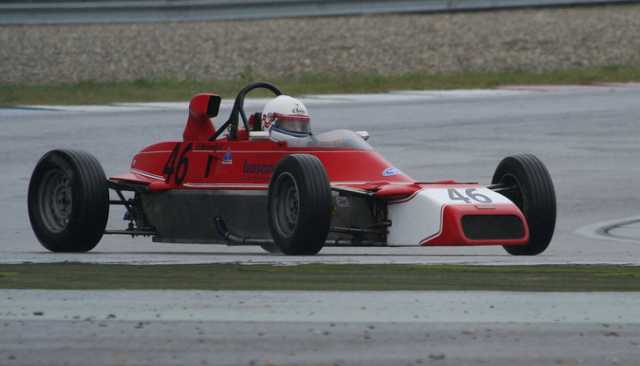 Oversteer in the wet, having a good time
| | | | | | |
| --- | --- | --- | --- | --- | --- |
| | | | Class | 1st Qualification | 2nd Qualification |
| 1 | Matthew Dean | Reynard SF88 | B | 1:54,946 | 2:20,563 |
| 2 | Jaap Blijlevens | Reynard FF 88 | B | 1:55,531 | 2:22,148 |
| 3 | Tony Walsh | Reynard FF 88 | B | 1:56,175 | 2:26,743 |
| 4 | Chris Whittingham | Reynard FF88 | B | 1:57,609 | — |
| 5 | Christian Schröter | van Diemen RF82 | B | 1:58,330 | 2:27,423 |
| 6 | Ed Waalewijn | van Diemen RF82 | B | 1:58,854 | 2:26,065 |
| 7 | Alan Crocker | Ray FF71 | C | 1:59,552 | 2:23,093 |
| 8 | Paul McMorran | Crossle 25F | C | 1:59,618 | 2:23,130 |
| 9 | Nils Leuber | Vaney 71/2 | C | 2:00,560 | 2:30,717 |
| 10 | Roel Mulder | PRS PH2 | C | 2:01,219 | 2:29,692 |
| 11 | Alan Williamson | van Diemen RF81 | B | 2:01,776 | 2:27,689 |
| 12 | Gilbert Cristini | van Diemen RF88 | B | 2:05,119 | 2:33,143 |
| 13 | Stephen Collyer | Dulon MP15 (Merlon) | C | 2:05,297 | 2:35,213 |
| 14 | Marcus Hahne | van Diemen RF84 | B | 2:08,780 | 2:34,866 |
| 15 | Povl Barfod | Titan Mk6 | C | — | — |
Race
I had plans. Christian was the first car I wanted to pass. Try and stick with the lead group if possible. I was confident I could go a little faster than in practice. At the start lot of things happened and I found myself in front of Christian but Alan was breathing down my neck. I missed a gear coming out of the complex and Alan passed me. Now Paul McMorran was all over my rear. I could keep him behind me as my car had more speed on the straights. Alan managed to pass Chris Whittingham and I also tried to pass him. My efforts were not successful however. Coming out of the complex I again missed a gear and Paul passed me. He was now all over Chris and on lap 6 he made a very bold (mad) move to pass Chris in the chicane after the straight. He carried so much speed that there was no way he would make the corner. He passed Chris however and he almost passed Alan as well, but not quite so he collected Alan. They both went off.


Just before the "move" of Paul
I was now lying fourth and I could comfortably follow Chris, but I could not find a way past him. The best place to pass is the Timmer corner just before the start-finish straight, but to do that you have to be real close through the Ramshoek. I didn't feel confident getting to close to Chris there and it was therefore difficult to outbrake him although there were times when I thought afterwards - if only I had tried this time. I kept missing gear which didn't help as I had to close the gap all the time after this happened. At the finish I was very close but not close enough. After the race Harald direct me to the rostrum. He felt that Chris would be disqualified as he had jumped the start in front of Harald's eyes. Fortunately the clerks did not share his opinion as this would not be the right way to get third place. I will beat him on the track and get my third the right way.
| | | | | | | | |
| --- | --- | --- | --- | --- | --- | --- | --- |
| | | | Class | Laps | Time | Fastest lap | Difference |
| 1 | Jaap Blijlevens | Reynard FF 88 | B | 11 | 21:24,691 | 1:55,665 | |
| 2 | Tony Walsh | Reynard FF 88 | B | 11 | 21:24,854 | 1:54,890 | -0,163 |
| 3 | Chris Whittingham | Reynard FF88 | B | 11 | 21:55,715 | 1:58,159 | -31,024 |
| 4 | Ed Waalewijn | van Diemen RF 82 | B | 11 | 21:56,032 | 1:57,998 | -31,341 |
| 5 | Christian Schröter | van Diemen RF82 | B | 11 | 21:56,859 | 1:57,584 | -32,168 |
| 6 | Nils Leuber | Vaney 71/2 | C | 10 | 20:27,849 | 2:00,807 | 1L |
| 7 | Stephen Collyer | Dulon MP15 (Merlon) | C | 10 | 20:47,380 | 2:01,645 | 1L |
| 8 | Marcus Hahne | van Diemen RF84 | B | 10 | 21:17,910 | 2:05,004 | 1L |
| 9 | Povl Barfod | Titan Mk6 | C | 10 | 21:35,944 | 2:06,145 | 1L |
| DNF | Gilbert Cristini | van Diemen RF88 | B | 8 | 17:03,007 | 2:05,184 | 3L |
| DNF | Alan Crocker | Ray FF71 | C | 8 | 17:20,387 | 1:58,235 | 3L |
| DNF | Paul McMorran | Crossle 25F | C | 6 | 11:59,652 | 1:57,483 | 5L |
| DNF | Alan Williamson | van Diemen RF81 | B | 6 | 12:27,892 | 2:01,345 | 5L |
| DNF | Matthew Dean | Reynard FF 88 | B | 2 | 3:59,493 | 1:58,387 | 9L |
| | | | | | | | |
| | Winner FF2000 | | | | | | |
| | Frank Novak | Reynard SF88 | A | 11 | 20:20.078 | 1:49,067 | |