Hockenheim 18-20 Apr 2008
Prelude
The season begins and with a fresh "Baxterized" engine I set off to Hockenheim. We have a strange weekend which starts off on the Thursday with free practices, qualifying will be on Friday and the race is on Saturday. So after work on Wednesday I pack my kit and set off for Hockenheim at 22:15. I drive till 01:30 and find a petrol station to sleep. The next morning it is only 200 more km to Hockenheim. With a leisurely pace I figure I get there round 13:00. This however was not what happened as I hadn't counted on the German police and their methods of dealing with unsuspecting motorists.
At 11:45 I was stopped by a police car and in the parking place they tell me this is a routine check, so I have to get my papers. These are in order, so I think I am free to go and make for Hockenheim for the first free practice. No again the policemen catch me off guard. I have to do some balancing acts, which I do not do brilliantly as I just stepped from my camper and where I stand is a crack in the pavement. But I am not to worried as it is not as if I am drunk or very unstable. The policemen however tell me that they did a course in recognising drug users and based on this course they suspect me of having used drug in the last 72 hours which would make it illegal to drive a vehicle. As I can say that I have not taken drugs (excluding alcohol and caffeine) in this century not even proscribed by a doctor, I tell them what I think of their course in ever so polite a way - never cross the German police - thus also reaffirming my claims of innocence.
This all would not have been a problem if the next test would not have involved peeing in a little beaker. The urine would be tested and this would show my innocence. However roughly 15 min before these keen policemen stopped me, I was at a petrol station where I had emptied my bowel. This make peeing on demand very difficult. I told my two green clad companions that this might take long even when I would drink a lot. And time long it took. I also explained in the waiting period why this method was not used in Holland. From an efficiency point of view it is not a favoured method as it can take up to an hour and all the while my two policemen friends stand there doing nothing. I was however assured that the German police does not count in man hours - nothing it to much time or money to catch a drug offender. After an hour I was taken to the chief and he warned me of the consequences, I had to leave my vehicle behind and … I again protested my innocence and asked if somebody else would redo the test. He assured me the outcome would be the same as he also saw telltale signs. Now my hair was a bit long and I hadn't shaven for a week, but these are not the signs you look for if you were to judge somebody for drug use. After the umth time of producing not a drop of urine, my two green friends told me there was another way. I did not have to agree to it but it would plead me free in another way. I would have to agree to a search of my camper. Of course I agreed as there were only legal - duty paid - drug in it. After 5 min my green friends stopped their search. It would take to long as it was like a house. Suddenly not everything was possible to catch a drug offender or maybe my unrelenting protesting of my innocence had gotten to them. They conferred and after a short time they gave me back my papers with "chuss" let me go after one and a half hour.
It was only a short drive to Hockenheim but it took me longer than I thought: I had to stop twice to pee.
Free Practice
I came to Hockenheim a little later than I had hope but there was more time to be lost than was on account of the little green men. The paddock was an absolute chaos. We were planned directly behind the pits and there was very little space to manoeuvre let alone park. I helped Geoff Dean bend his steps at the back of his lorry while trying to get him out of a tight spot - again my apologises. Eventually I could stand in a nice enough spot next to Peter Sikstöm. Despite all the delay I was ready in time for the free practice session of 17:00. The session went well although the times were a bit disappointing. I only could manage a 2:02 where I have driven 1:57. My preparation was not bad because I had just driven my best time ever at Zandvoort during a shake-down.
Qualifying
The first practice was in many way similar to the free practice. No front end grip and it was very hard to get the car to turn in. Lots of understeer especially in slow corners. Furthermore Chris Whittingham was with me all the time and he held me up in the fast corners and I held him up in the slow ones. I was afraid I was over driving the car a little bit. I would try to be more relaxed in the afternoon. Still I had a trump up my sleeve as I had a set of new tyres for the second qualifying. As I wasn't sure that the old tyres were totally to blame for the awkward behaviour I only changed the anti-roll bar at the front a little bit.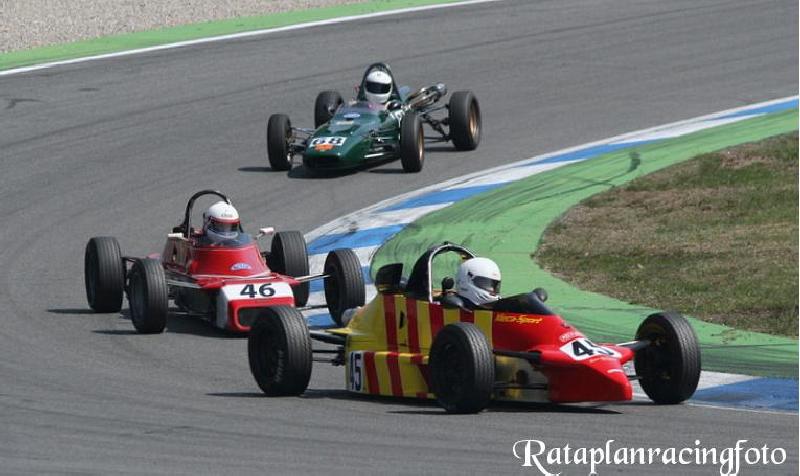 Following Chris thru Sachs kurve
There was an immediate change in handling on the new tyres. The car handled completely different. I was going into the first slow corner and thinking, "I wasn't going to throw it in so much…" when the car turned in like there was no tomorrow. I quickly got the times down to 2:00 and a few 1:59s. After I did a 1:59.4 I sat down to shave some more seconds of my laps, but I missed a gear in the first lap, I missed a gear in the second lap and then there was a car that held me up and then there was the flag. I knew I could have gone faster but I had a fairly good position on the grid: 5th of 1600s and 4th in class B.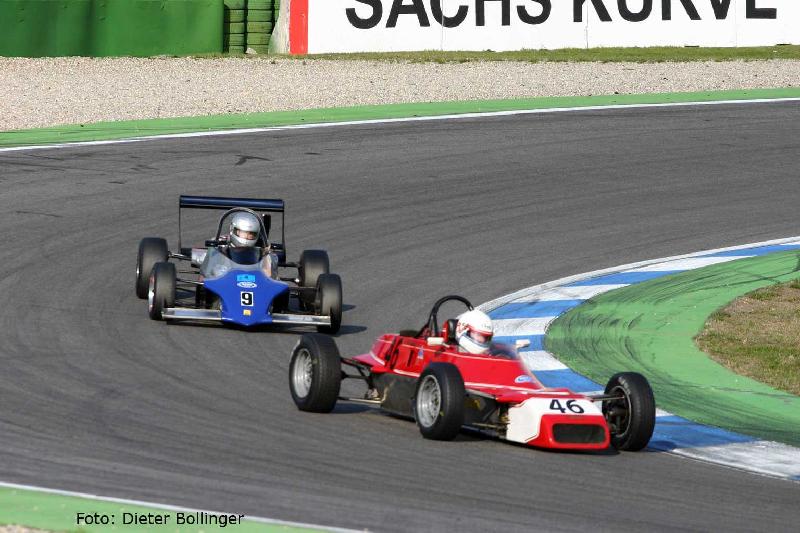 Thru Sachs kurve on new tyres
Class
1st Qualification
2nd Qualification
1
Matthew Dean
Reynard SF88
B
1:57,223
1:56,146
2
Jaap Blijlevens
Reynard FF 88
B
1:58,876
1:57,824
3
Alan Crocker
Ray FF71
C
2:02,379
1:58,192
4
Chris Whittingham
Reynard FF88
B
2:01,437
1:59,343
5
Ed Waalewijn
van Diemen RF82
B
2:02,191
1:59,463
6
Christian Schröter
van Diemen RF82
B
2:01,271
1:59,575
7
Nils Leuber
Vaney 71/2
C
2:01,671
2:00,442
8
Roel Mulder
PRS PH2
C
2:00,981
2:02,256
9
Peter Silkström
van Diemen VD79
B
2:03,152
2:01,889
10
Paul Hubbard
Merlyn

 

Mk 20
C
2:01,965
2:03,856
11
Johannes Kistler
van Diemen RF78
C
2:02,998
2:02,066
12
Alan Williamson
van Diemen RF81
B
2:05,249
2:03,630
13
Povl Barfod
Titan Mk6
C
2:06,506
2:04,808
<![if supportMisalignedColumns]> <![endif]>
Race

Hockenheim at its worst
After two nice days of which the afternoon of qualifying was truly spring-ish, race day started off dismal. I was woken very early by the tapping of raindrops on my camper. I went out to rescue some equipment that wasn't under my awning. After this I couldn't catch any more sleep. The rain was still with us when our race started. I set-up my car to full wet because that is how it looked - full wet! I was optimistic for the race since I had driven reasonable successful race in the wet the last two years. Also the ability of my Koni shocks to be set to full lose helped in this respect.
We had two warm up laps, which was necessary. The conditions were atrocious. I spun on the warm up lap and had to work hard to regain my place before the start. There were rivers on the track and visibility was even in the warm up very limited.

Trying to regain my place on the grid in warm-up
The start was terrible. Not that I lost any place but after 200m I could only see the rear light of Alan Crocker's car and a few seconds later that also disappeared in a thick grey mist. I had to guess where the Nord Kurve was, but here the rear light reappeared to disappear again after the corner. To Coca Cola I could not see anything. There again the rear light re-immerged from the thick mist. I duly followed it and on the Parabolica driving with half throttle to prevent aquaplaning I could just follow Chris Whittingham and Alan. I followed them until I spun in the stadium. Trying to recover I spun again in the Nord kurve. I was only passed by Roel Mulder and Peter Sikström. I was seriously wondering what I was doing here. I just kept on going wondering why I wasn't overtaken by more people. I tried to keep up with Peter but I lost him after I spun on the run up to Senna. Just trying to keep everything in one piece I continued. I completed the race without spinning myself. However Toni Krumbach managed to push me round one more time when he overtook me and couldn't hold the inside line. No harm was done however and I finished on 6th place (5th in class) as I overtook Alan while he was trying to dig himself out of the gravel.

Tip-toeing through Sachs
Results
| | | | | | | | |
| --- | --- | --- | --- | --- | --- | --- | --- |
| | | | Class | Laps | Time | Fastest lap | Difference |
| 1 | Matthew Dean | Reynard FF 88 | B | 10 | 26:29,349 | 2:34,763 | |
| 2 | Jaap Blijlevens | Reynard FF 88 | B | 9 | 24:09,908 | 2:35,014 | -5.587 |
| 3 | Chris Whittingham | Reynard FF88 | B | 9 | 24:32,269 | 2:37,885 | -27,948 |
| 4 | Peter Silkström | van Diemen VD79 | B | 9 | 25:31,825 | 2:43,708 | -1:27,504 |
| 5 | Roel Mulder | PRS PH2 | C | 9 | 25:41,245 | 2:46,486 | -1:36,924 |
| 6 | Ed Waalewijn | van Diemen RF 82 | B | 9 | 25:59,620 | 2:45,646 | -1:55,299 |
| 7 | Alan Crocker | Ray FF71 | C | 9 | 26:07,700 | 2:41,420 | -2:03,379 |
| 8 | Christian Schröter | van Diemen RF82 | B | 9 | 26:38,253 | 2:41,113 | -2:33,932 |
| 9 | Alan Williamson | van Diemen RF81 | B | 9 | 26:45,789 | 2:47,086 | -2:41,468 |
| 10 | Johannes Kistler | van Diemen RF78 | C | 8 | 24:24,008 | 2:51,511 | -2:42,356 |
| 11 | Povl Barfod | Titan Mk6 | C | 8 | 26:10,422 | 3:03,247 | -4:28,770 |
| | | | | | | | |
| | Winner FF2000 | | | | | | |
| | Frank Novak | Reynard SF88 | A | 10 | 24:03,473 | 2:22,669 | |