Zolder 5-6 May 2007
6th<![if supportMisalignedColumns]>
<![endif]><![if supportMisalignedColumns]> <![endif]>

It is always nice to go to Zolder. It is conveniently close and after little less than 3 hours you are where you want to be. This was a no free practice so we, Joost, Olivier and myself, drove up on Friday evening. The next morning the race was on immediately. First practice had to be the one. Weather forecast was a warm day which would mean that the second practice would be slower than the first one. Certainly because I had brand new Avon tyres.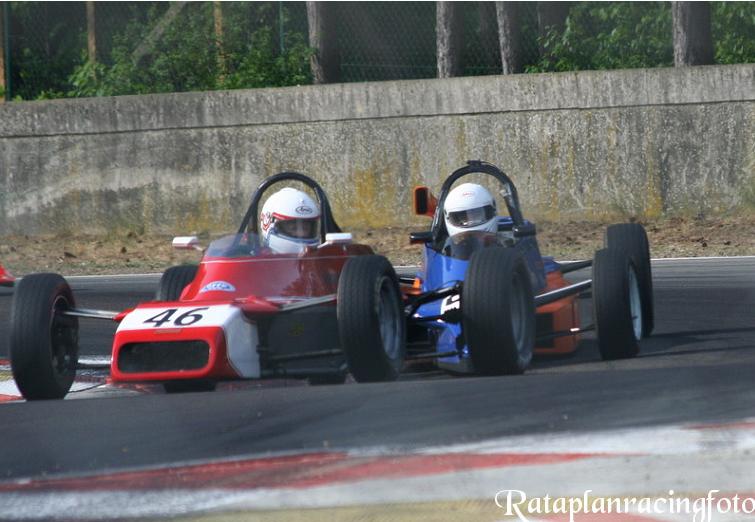 First practice
There was a lot of traffic and it was quite hard to get in a good lap. Furthermore Zolder is a circuit that is constantly calling to me "You can go faster into this corner". And it keeps calling so I know I could go faster. I finally got one lap more or less right, which resulted in a 1:49.6. I made another few attempts but either was a car in the way or I made a mistake. With seconds on the clock I had a gap and I got the first and second corner right and then there were yellows in Bianchi. The Belgian marshals were a bit overzealous to end the training session and ended my final attempt. The time was still a far cry from my best time of last year 1:47.0 and although the chicane behind the paddock was a bit slower as you couldn't go over it. Matthew Dean found this out when he launched himself on it only holding the car with great difficulty while I had a grandstand view of his efforts. Anyway I don't think the track would be more than 0.5 s slower by this. So there was work to do.
Second training
I tried the Dunlops as these generally work better in warm weather. In the morning session I was still a bit rusty because there hadn't been any free practice. In this session I was a bit more tidy and so I bettered my time of the morning. Not by a great margin and certainly not the low 1:48 I was aiming for. A 1:49.0 got me a 6th place on the 1600 grid.
We had a lot of visitors, Jan and family and Joost girlfriend's with offspring and Jan made a very good diner.
&nbsp
&nbsp
&nbsp
Class
1st session
2nd session
1
Hanno Hess
van Diemen RF88
B
1:46,963
1:45,992
2
Jaap Blijleven
Reynard SF88
B
1:46,773
1:46,868
3
Matthew Dean
Reynard SF88
B
1:47,302
1:46,885
4
Roel Mulder
PRS RH02
B
1:48,555
1:47,673
5
Rebecca Dean
Reynard SF88
B
1:50,518
1:48,302
6
Ed Waalewijn
van Diemen RF82
B
1:49,632
1:49,033
7
Tony Walsh
Reynard SF88
B
1:53,464
1:49,049
8
Paul McMorran
Crossle 25F
C
1:50,340
1:49,375
9
Alan Crocker
Ray FF71
C
1:49,501
1:49,536
10
Chris Stones
van Diemen RF85
B
1:49,505
-
11
Roberto Kraft
Swift 88
B
1:50,956
1:50,577
12
Nils Leuber
Vaney 71/2
C
1:52,879
1:50,923
13
Christian Schröter
van Diemen RF82
B
1:52,246
1:51,248
14
Stephen Collyer
Dulon MP15
C
1:52,265
1:51,619
15
Paul Hubbard
Merlyn

 

Mk 20
C
1:51,886
1:51,873
16
Jan Steenhart
PRS RH02
B
1:52,413
1:51,892
17
Jean Marc Mantei
van Diemen RF87
B
-
1:52,775
18
Thomas Rohmer
van Diemen RF87
B
1:54,807
1:53,802
19
Rob ter Steege
van Diemen RF87
B
1:55,741
1:57,495
<![if supportMisalignedColumns]> <![endif]>
Race
I had a pretty good start and got in front of Rebecca Dean. I followed Roel Mulder and at the chicane Tony Walsh tried to overtake on the outside. As he ran on to a slow 2 litre I thought I could easily keep him at bay as I had the inside line. To my surprise the 2 litre went into the chicane a lot faster than I anticipated. So I had to concede a place and because of attention I had given to the situation I had forgotten to shift back and I accelerated slowly out of the corner in third gear. Rebecca and Paul McMorran slipped by. On the exit of the Villeneuve chicane I almost lost it on a greasy patch and unknown to me at the time Chris Stones almost collected me. I managed to re-pass Paul. In the second lap Chris passed me and I tried to follow him and Rebecca. They got a small gap that I managed to close a little . Then I had another moment on a greasy patch and lost contact with Chris and Rebecca. Paul was always close. I tried to close the gap but that did happen. It only got bigger. Then I had a big moment when coming to the first corner I got on Dan Gouweloos' oil and with the greatest difficulty I could keep the car on the track. Paul slipped by and as I wasn't sure what had happened I took me some time to figure out the car was okay and it had been oil. I went into pursuit of Paul and I managed to close the gap but not before the flag dropped. As Paul was leading the C-class there was no reason other than pride to overtake him anyway.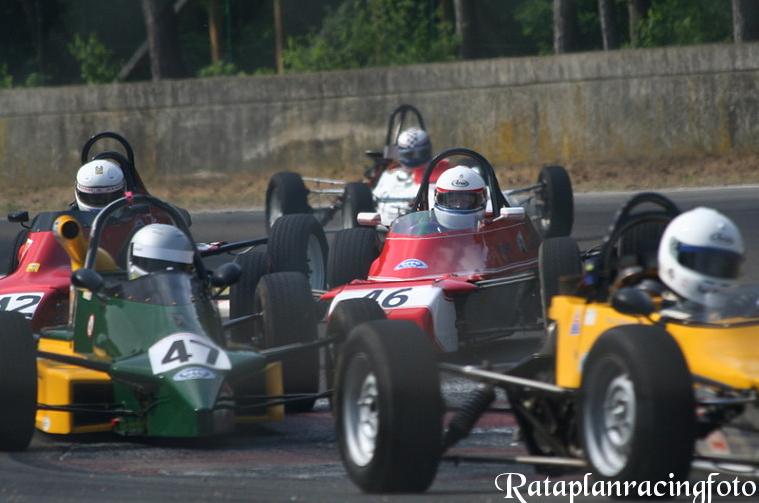 First time thru the Villeneuve chicane
| | | | | | | |
| --- | --- | --- | --- | --- | --- | --- |
| | | | Class | Laps | Time | Fastest lap |
| 1 | Jaap Blijlevens | van Diemen RF 87 | B | 13 | 23:45,429 | 1:46,731 |
| 2 | Tony Wash | Reynard FF 88 | B | 13 | 23:52,720 | 1:47,409 |
| 3 | Matthew Dean | Reynard FF 88 | B | 13 | 23:54,339 | 1:47,916 |
| 4 | Chris Stones | van Diemen RF 85 | B | 12 | 22:11,029 | 1:47,676 |
| 5 | Rebecca Dean | Reynard FF 88 | B | 12 | 22:11,619 | 1:47,512 |
| 6 | Paul McMorran | Crossle 25F | C | 12 | 22:24,565 | 1:50,063 |
| 7 | Ed Waalewijn | van Diemen RF 82 | B | 12 | 22:25,030 | 1:49,018 |
| 8 | Christian Schroter | van Diemen RF 82 | B | 12 | 22:39,316 | 1:50,043 |
| 9 | Jan Steenhart | PRS RH02 | B | 12 | 22:45,086 | 1:51,042 |
| 10 | Jean-Marc Mantei | van Diemen RF 87 | B | 12 | 22:53,220 | 1:50,943 |
| 11 | Stephen Collyer | Dulon MP 15 | C | 12 | 22:53,771 | 1:51,327 |
| 12 | Paul Hubbard | Merlyn Mk 20 | C | 12 | 22:53,980 | 1:51,191 |
| 13 | Nils Leuber | Vaney 71 | C | 12 | 22:54,902 | 1:51,020 |
| 14 | Thomas Rohmer | van Diemen RF 87 | B | 12 | 23:29,547 | 1:53,061 |
| 15 | Hanno Hess | van Diemen RF 88 | B | 7 | | 1:47,774 |
| 16 | Rob ter Steege | van Diemen RF 87 | B | 5 | | 1:56,383 |
| 17 | Roel Mulder | PRS RH02 | B | 4 | | 1:49,401 |