Nurburgring
The CFFC at a very high status event. There were only three race classes: FIA GT Le Mans championship, Toyota Yaris Cup and the CFFC. The event was spread out over only two days and therefore the Saturday was a busy day with one free practice and two qualifications.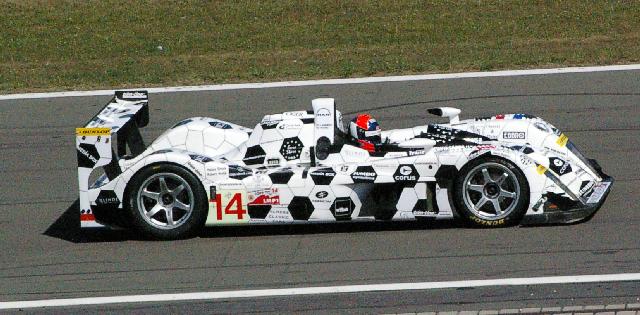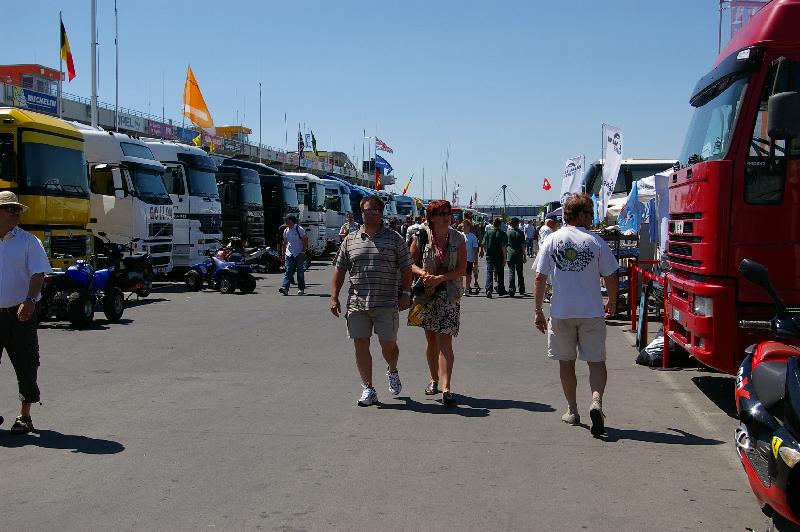 Free practice
The free practice was used for some tire tests. I had Dunlop tires which I had never used before so we tried several tire pressures. Joost checked the tire temperature and the pressures. This way we hoped we got the correct pressure for the event. I was more occupied with the slightly different handling than with all out attack so I only realized a not impressive 2:22.6. The performance of the Dunlops was encouraging as they are more communicative than the Avons. They start to slide a bit earlier but are better controllable and it is easier to control a power slide.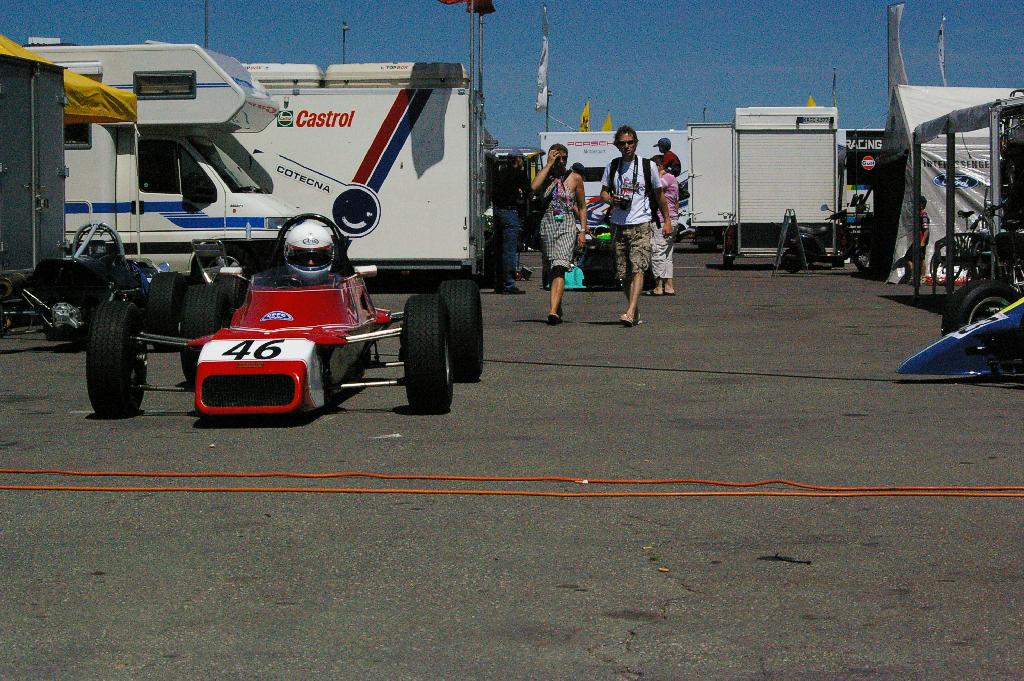 First qualification
The first qualification was on hottest time of the day. The qualification was quite uneventful. I steadily got my times down although I didn't get in a proper lap. There were always other cars in the way or I made an error, generally by not going fast enough into a corner. Finally I got a lap in of 1:19.5 which was good for a seventh provisional place on the grid.
Second qualification
We changed the gears before the second qualification. The wind was against you on the back straight and you only got 6200 rpm in top. With a lower top and third gear I hoped to improve my performance. The second qualification was even worse than the first qualification. No matter how hard I tried I could not get a lap together which was better than the one of the first session. My best time was 1:19.8. My place on the grid stayed seventh.
Qualification results FF1600
1
Hanno Hess
van Diemen RF88
B
2:17,287
2:17,164
2
Chris Stones
van Diemen RF85
B
2:17,775
2:17,743
3
Matthew Dean
Reynard SF88
B
2:18,957
2:18,274
4
Alan Crocker
Ray FF71
C
2:18,281
2:18,383
5
Paul McMorran
Crossle 20F
C
2:19,144
2:18,492
6
Onno Zuidersma
van Diemen RF87
B
2:19,298
2:20,500
7
Ed Waalewijn
van Diemen RF82
B
2:19,551
2:19,922
8
Jorg Grieshaber
March 718
C
2:20,821
—
9
Rebecca Dean
van Diemen RF87
B
2:21,756
2:20,895
10
Felix Haas
Mallock Mk 9
C
2:22,387
2:23,114
11
Thomas Rohmer
van Diemen RF87
B
2:24,388
2:22,473
12
Paul Hubbard
Merlyn

 

Mk 20
C
2:24,830
2:22,593
13
Nils Leuber
Vaney 71/2
C
2:25,715
2:22,621
14
Roberto Kraft
Swift 88
B
2:29,010
2:23,582
15
Yann Decean
Rondeau M 584
B
2:24,819
2:26,136
16
Antonio Garrido-Mayer
van Diemen RF87
B
2:25,984
2:25,008
17
Povl Barfod
Titan Mk 6
C
2:27,269
2:27,368
<![if supportMisalignedColumns]> <![endif]>
Race
Whatever was said at the drivers briefing about a tight field going up to the start, which might have been true for the front of the field, was not true for our start. The race began just before the chicane, which is about the worst place to start since there is no way for two cars going through it side by side as is intended for a grid.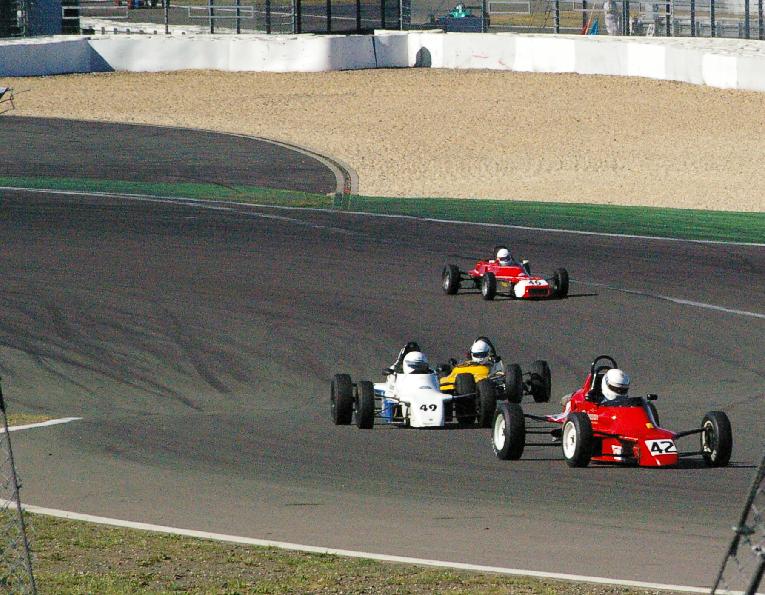 I was caught out since I had reckoned that give the instructions the start would only happen maybe at the Coca cola curve. My mistake as you can't let anything like this catch you out. Anyway with a bit more of a disadvantage than I would have liked I crossed the starting line. In the Mercedes complex I had almost made up the deficit. The only thing between me and my fellow 1600s was Joao Marques in his two liter. I could not get past him in the complex and only on the run to the Dunlop hairpin I could go past him to try to get to the bunch that were fighting over second: Matthew, Chris, Alan, Onno and Paul. I had gap of a second at the end of the first lap, when Joao came past on superior straight line speed. He held me up a little in the Mercedes complex but I gathered he soon would do the same with the rest of the 1600. Unfortunately Joao engine gave up the ghost and I had to get round his ailing car in the Dunlop hairpin. At the end of the second lap Paul McMorran was more than 2 seconds away. From now on it was try to go as fast as possible and hope that the group in front of me would keep each other up.


First lap behind Joao, hot on Chris' tail, in front of Paul [photos Joke]
This was actually the case and on lap 5 I was hot on their tail and I past Paul who was concentrating on keeping with Alan. I was now hot on Chris' tail but I found that he was using dirty tactics. His car was laying a trail of fluid and I was a bit cautious following him. He was away before I knew it. I still had Paul to deal with and at the end of lap he passed me on the straight. I got past him on the entry to the Mercedes complex by driving a tighter line so I could dive past him. The next laps he tried to out brake me there and actually got by but my line was shorter and faster so by the next corner I would be in front.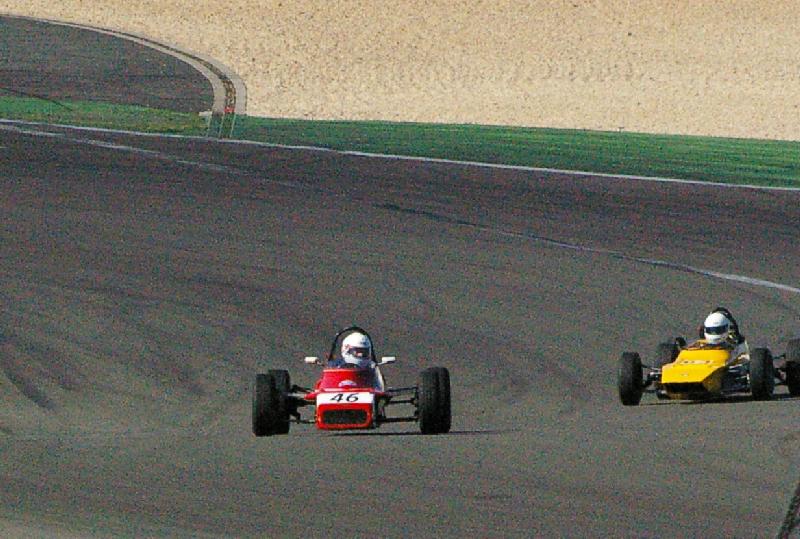 Keeping in front of Paul by using a more economical line
We lost a little ground but by lap 9 Alan went over the grass at Dunlop and I was hot on his tail. He set a blinding pace and I couldn't get past. He drove away and all I could do was follow and keep as close as possible. In the final lap Paul made another attempt to pass me but now in the Michelin curve. I actually didn't see his attempt but felt it. It was a bump at my rear and then the engine began to make an awful noise. I felt whether the car was okay but didn't feel anything strange so I gathered it was my silencer that had come lose or something. I pressed on to the finish to find I still came very close to Chris. I was sixth overall and fifth in class. Onno had got his first podium by finishing third, well done.
It was actually my silencer that had come off and there was no more damage. Paul's car was in a more grievous state as can be seen from the pictures.