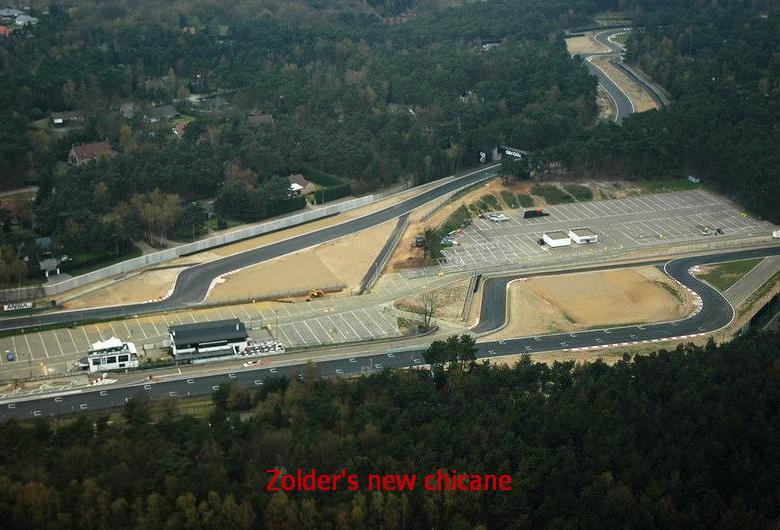 Sixth
Free practice
Friday started out with a drizzle. There were two free practices so I enlisted for both to hone my wet skills. The first session was wet but not to bad. The track although resurfaces had enough grip, especially in the corners. Braking was more difficult. It was a useful exercise. The afternoon session was less successful. It was plagued by heavy rain and standing water. My tyres had seen better days so I was aquaplaning all over the places. On the start and finish straight you had to be careful not to over rev the engine when the rear wheels lost grip. Once you got to know where the water was you could doodle along but there was no way to push. Anyway these were conditions where you can lose a lot and there was no gain to be had. Some people found this out the hard way. Anyway it was a cheap session since for the five or six laps I did I only used 3 liters of petrol.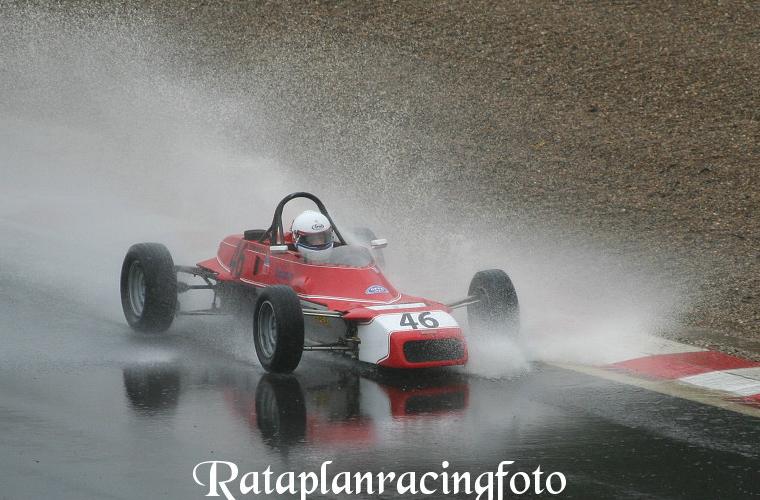 Qualifying session 1
Saturday started out dry but as we had to get on the track at 9 o'clock it was still damp and slippery especially under braking. I was constantly trying to adjust my brake balance but as soon as you touched the brakes a little hard the front or even all tyres locked up. Generally the track had enough grip to give you confidence. I once tried how fast I could go through the new chicane which is much faster than the old one, but I went a bit to fast and could barely catch it. It must have been spectacular to see. At the end of the session I ran a little wide in the first left and went off the track. I only went off a bit more than a car width but it was like dirt track racing: water and mud spraying all over the place. I finished the session and brought back a car which was more brown-grey than red and mud everywhere. I had done a sixth time.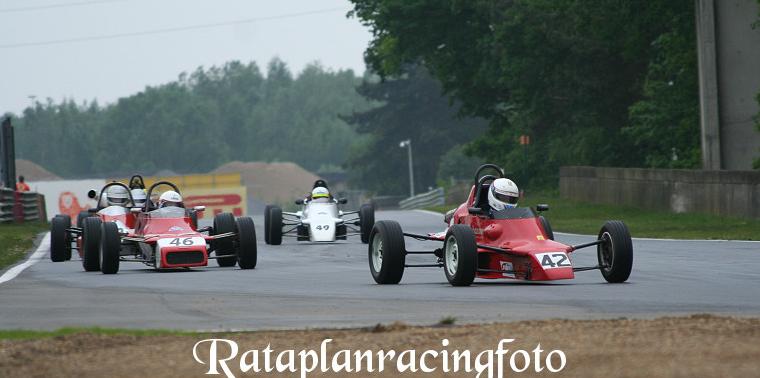 Qualifying session 2
The second qualifying session was fully dry, so this was the decider. I followed Roel and we were on lap times of roughly 1:48. I overdid it some where and I lost some time and my tow. I sat down to do serious laps and I managed a 1:47:0. On what I figured would be the last lap I had thought that time could be bettered if I went faster through Bianchi and braked a bit later for the new chicane. The lap went really well and I was certain that this would be a 1:46.5 or even better. At Ickx I overshot my turn-in point by a couple of meters and this destroyed my line through that chicane. With error my lap time was 1:47.2 so it would have been possible to get that 1:46.5. I was not a happy camper and a bit angry with myself to have fucked-up this lap.
1
Hanno Hess
van Diemen RF88
B
1:56,308
1:44,680
2
Matthew Dean
Reynard SF88
B
2:01,125
1:45,747
3
Alan Crocker
Ray FF71
C
1:56,347
1:46,031
4
Chris Stones
van Diemen RF85
B
1:58,989
1:46,546
5
Roel Mulder
van Diemen RF88
B
1:57,551
1:46,905
6
Ed Waalewijn
van Diemen RF82
B
1:59,864
1:47,007
7
Onno Zuidersma
van Diemen RF87
B
1:58,844
1:48,238
8
Benita Brouwer
Reynard SF88
B
2:04,917
1:49,447
9
Stephen Collyer
Dulon MP15
C
2:02,628
1:49,828
10
Phillipe Demeyer
Merlyn

 

Mk 20
C
-
1:50,516
11
Paul Hubbard
Merlyn

 

Mk 20
C
2:05,541
1:52,001
12
Rebecca Dean
van Diemen RF87
B
2:02,902
1:52,124
13
Roberto Kraft
Swift 88
B
2:06,339
1:52,809
14
Felix Haas
Mallock Mk 9
C
2:07.287
1:53,134
15
Thomas Rohmer
van Diemen RF87
B
2:09,177
1:53,809
16
Povl Barfod
Titan Mk 6
C
2:06,178
1:54,445
17
Antonio Garrido-Mayer
van Diemen RF87
B
2:10,331
1:55,359
18
Nils Leuber
Vaney 71/2
C
2:09,372
1:55,996
<![if supportMisalignedColumns]> <![endif]>
Race
The race started out fantastic. In the run up to the first corner I managed to crawl past Roel, Chris and Alan. After that I had contend with a couple of two litres who were in front of us. I could use these to keep Roel tidy. On the approach to Villeneuve Roel passed because I lost some momentum. I managed to repass him on the approach to Ickx. Hanno was lying first, Matthew second and at some distance because of all the two litres between us I was lying third. A place where I had never been. Hugo in his 2 litre posed no real problem as he still had to find his speed. I could fend off challenges another lap and I thought I was actually gaining on Matthew.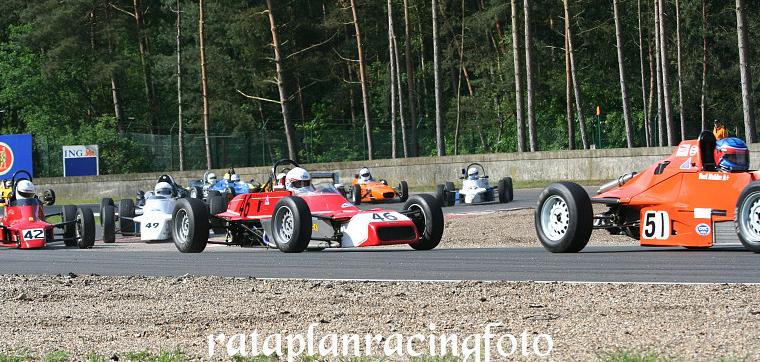 Then it all went pear shaped as I braked a little early on the approach to Villeneuve. The car was still unstable and it got sideways under braking. This had happened before in practice but then I always catch it. Now I caught it but it went the other way and instead of turning in over the curb stone, I was on the curb stone with all four wheel. I was passed in quick succession by Hugo, Roel, Chris and Onno. I could rejoin before Alan could overtake me.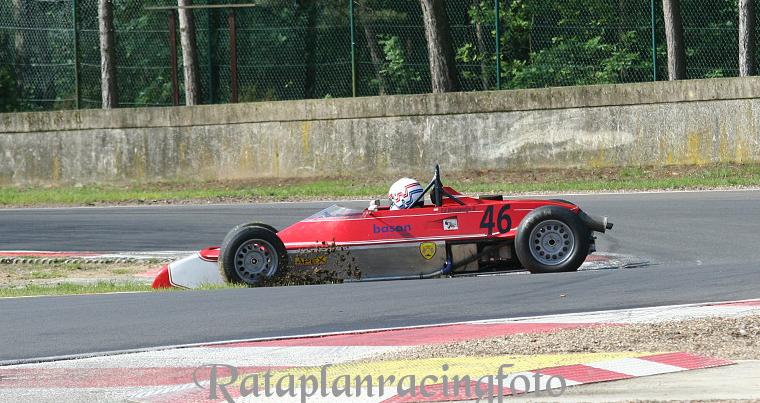 I set in the pursuit and thought I had enough speed as Alan kept his distance. After two laps the group in front had gone in the distance. At some stage Alan overtook me and after that waved me passed. I thought he had some problems but it later turned out he was going for the class win and wanted to take no risks - his engine had overheated in Hockenheim and he was worried about his valve seats. After that there was no real treat from behind and I couldn't get to the front runners. All the time I found 2 litres by the wayside but no 1600s. Therefore I finished sixth and I was not pleased.
Class
Laps
Time
Fastest lap
1
Hanno Hess
van Diemen RF88
B
12
23:13,947
1:45,129
2
Matthew Dean
Reynard SF88
B
12
23:32,885
1:47,664
3
Roel Mulder
van Diemen RF88
B
12
23:33,380
1:46,792
4
Onno Zuidersma
van Diemen RF87
B
12
23:38,633
1:47,302
5
Chris Stones
van Diemen RF85
B
12
23:47,351
1:47,557
6
Ed Waalewijn
van Diemen RF82
B
11
22:07,723
1:49,079
7
Alan Crocker
Ray FF71
C
11
22:14,497
1:48,882
8
Benita Brouwer
Reynard SF88
B
11
22:16,989
1:49,977
9
Rebecca Dean
van Diemen RF87
B
11
22:32,625
1:52,167
10
Roberto Kraft
Swift 88
B
11
22:37,777
1:52,117
11
Stephen Collyer
Dulon MP15
C
11
22:38,024
1:51,405
12
Felix Haas
Mallock Mk 9
C
11
22:56,400
1:52,713
13
Thomas Rohmer
van Diemen RF87
B
11
22:57,952
1:53,599
14
Antonio Garrido-Mayer
van Diemen RF87
B
11
22:59,066
1:53,468
15
Povl Barfod
Titan Mk 6
C
11
23:11,061
1:54,952
16
Phillipe Demeyer
Merlyn Mk 20
C
11
23:19,173
1:51,137
17
Nils Leuber
Vaney 71/2
C
11
23:24,329
1:56,564
Overall winner
Jaap Bartels
Reynard SF88 FF2000
A
12
22:02.924
Not classified
Paul Hubbard
Merlyn

 

Mk 20
C
0
<![if supportMisalignedColumns]> <![endif]>
More to follow